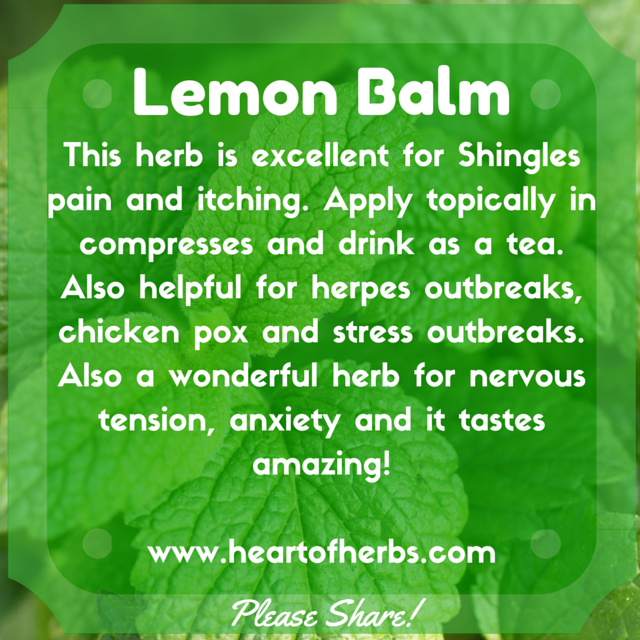 Herbs are so amazing and super easy to use!! You can usually find most herbs at any health food store. I personally shop at Sprouts, and they have a huge selection of tinctures. I decided to share this with you today because I have seen so many patients lately that come in with cold sores and fever blisters. I hope this helps you!


Benefits of Lemon Balm:
Calming, antiviral, and antiseptic, this beautiful member of the mint family is a great nervine herb. Its leaves and flowers contain volatile oils, tannins, and bitters that have a very relaxing , antispasmodic effect on the stomach and nervous system. It is great for stomach distress and general exhaustion and can also be used as a mild sedative for insomnia. Applied topically, it can be helpful for herpes, shingles, and chicken pox. It can be made into a cream for this purpose, but the tincture works just as well!


A little more about Herpes

Herpes is a painful viral infection that can reside dormant on the nerve endings for many years. It has recently become the second most common venereal disease in the United States. Few people have not experienced it in some form another, whether as cold sores, shingles, or herpes simplex I or II.

Herpes simplex II, genital herpes, and herpes simplex I, a less painful though even more common type of herpes that appears as cold sores and fever blisters, are agitated by stress, tension, a compromised immune system, and a sugar-rich diet. Holistic treatment of the nervous system offers not only temporary relief from the virus but lasting results.


The best herpes remedy: licorice root
Licorice root extract or tincture has been a very successful remedy for clearing up herpes simplex I and II. Licorice inhibits both the growth and the cell-damaging effects of the virus. It is best applied several times a day with a cotton ball or swab immediately upon the first signs of the outbreak. I have seen fever blisters disappear completely within two days!