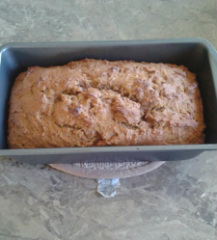 My family LOVES this recipe! I seriously make this once a week. It is perfect for a breakfast treat, or when you are craving something sweet without all the added sugar!! It is 100% real food. I found it on my favorite website 100daysofrealfood.com. She has some really great recipes on there!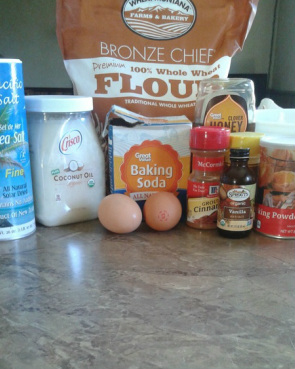 When I first started trying to switch to real food I would spend hours in the store trying to find the ingredients, so I have provided a picture of the ingredients I use. I always use organic ingredients whenever possible.


Ingredients:
1 ½ cups whole-wheat flour
1 ½ teaspoons cinnamon
1 teaspoon ground ginger
½ teaspoon nutmeg (forgot to put it in the picture)
⅛ teaspoon cloves ( I ran out, but it tasted great without it!)
1 teaspoon baking soda
¼ teaspoon baking powder
½ teaspoon salt
2 eggs
½ cup oil (I used coconut oil, melted)
½ cup honey
½ teaspoon vanilla
1 cup pumpkin puree (not in the picture because I had some leftover from my last batch)
½ cup chopped tree nuts (optional)
Directions:
Preheat oven to 350 degrees.
In a large mixing bowl whisk together the dry ingredients (from the flour down to the salt).
Make a well (hole) in the center and throw in the eggs, oil, honey, and vanilla. Stir together thoroughly with a fork, but do not overmix.
Fold in the pumpkin puree and nuts (if using).
Generously grease a large loaf pan or put muffin liners in a muffin pan and then pour in the batter.
For a loaf bake for approximately 30 – 40 minutes and for muffins bake for approximately 18 - 22 minutes. Check for doneness by making sure a toothpick inserted comes out clean.
original recipe can be found here: http://www.100daysofrealfood.com/2010/09/28/recipe-pumpkin-bread/