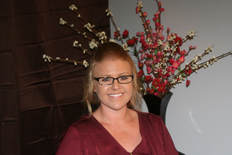 Sonja earned her degree in Acupuncture from the Colorado School of Traditional Chinese Medicine. After completing this two and one half year Master's program, Sonja was certified as a Licensed Acupuncturist by the National Certification Commission for Acupuncture and Oriental Medicine (NCCAOM). This program consists of 2,265 hours of education and 525 hours of clinical acupuncture. She is a licensed acupuncturist in the state of Colorado. Sonja's training includes adjunctive therapies such as moxibustion, tui na, acupressure, cupping, auriculotherapy and dietary and lifestyle recommendation. Sonja was certified in Clean Needle Technique in 2012.

In her practice, Sonja's areas of focus lie in musculoskeletal pain and injury, stress and anxiety, fertility, and women's health issues. However, with the whole-body approach of Chinese medicine and acupuncture, every problem has the potential to be addressed, so her practice is not limited to these conditions alone.

She has successfully treated chronic pain, dysmenorhhea, anxiety, depression, insomnia, gastrointestinal issues, as well as assisted many patients with IVF and IUI support.

When you come in for treatment with Sonja, you can expect a calm and relaxed atmosphere of healing, an attentive and listening ear, and the gentle, effective approach of providing therapy and care for her patients.

In her spare time, Sonja enjoys spending time with her family, riding her horses, rodeo, team roping, and relaxing with friends.


"My mission is to share my knowledge of Chinese medicine and my passion for natural health in order to provide the highest quality of patient care. I sincerely look forward to meeting you, and working together to reach your optimal health potential!"

​



---