8 Day Approved Low Carb Recipes!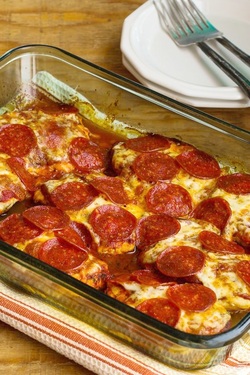 Low-Carb pepperoni pizza chicken bake.

This is a family favorite! It is SOOOO good!! I found it on Pinterest. you can find the recipe here http://www.kalynskitchen.com/2015/01/low-carb-pepperoni-pizza-chicken-bake.html

Ingredients:
1 jar (14 oz) pizza sauce, reduced to 1 cup
(Use the lowest-carb sauce you can find, or make your own pizza sauce and omit the sugar.)
4 large boneless-skinless chicken breasts (6-8 oz. each)
1 T olive oil
1 tsp. Greek oregano (sometimes just called oregano)
1 tsp. garlic powder
6 oz. piece of part-skim Mozzarella, sliced about 1/4 inch thick
2 oz. sliced pepperoni (regular or turkey pepperoni)

---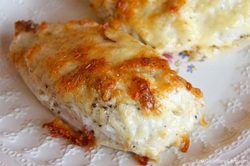 Three ingredient parmesan chickenThis is so easy, and so delicious! Ingredients
2 chicken breasts
¼ cup mayonnaise
¼ cup shredded Parmesan cheese (I use Kraft 100% Parmesan, finely shredded)
Salt and pepper
Directions


Season the chicken breasts with salt and pepper.
Place the chicken breasts in a medium bowl and coat evenly with the mayonnaise.
Transfer the chicken breasts to a baking dish and sprinkle the tops evenly with Parmesan cheese.
Bake at 350° F (175° C) for 45 minutes. (To bake from frozen, bake at 400° F (200° C) for 1 hour.)
---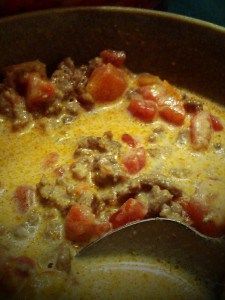 ---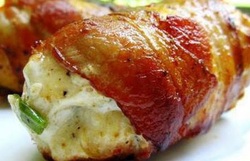 QUICK RECIPE: Bacon Wrapped, Cream Cheese Stuffed Chicken BreastsINGREDIENTS 2 boneless skinless chicken breast
4 tablespoons cream cheese
2 tablespoon green onion (chopped)
4 pieces bacon (partially cooked)
DIRECTIONS


Pound out Chicken breast so it is about 1/4" thick.
Mix together cream cheese and green onions and spread cheese mixture over 1 side of chicken breast.
Roll chicken breast up to conceal cream cheese.
Wrap partially cooked bacon around chicken breast and secure with toothpick.
Place on a greased baking sheet and bake for about 35 minutes at 375.
Broil for about 5 minute to crisp bacon.
---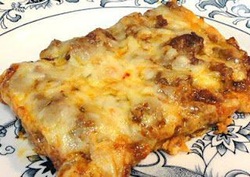 ---